【Scientific Name】Rochelle Salt
【Molecular Formula】KNaC
4
H
4
O
6
·4H
2
O
【Structural Formula】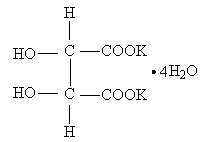 【Molecular Weigh】282.23
【Character】Colorless crystals or white crystal,specific gravity is 1.79,PH value is 6.8~8,the melting point is 70~80°C.Have minute efflorescence in the heat air,lose some water when heated to 60°C,and lose 3 water molecules at 100°C,become salt without water at 215°C. Freely insoluble in water, the solution assumes minute alkalescence.
【Specifications】US FCC(IV)(Food grade)
US FCC(IV)

Item

Index

Content %

99.0~102.0

Alkalinity

passed

Arsenic(As) ≤%

0.0003

Clarity

passed

Heavy metals(Pb)≤%

0.001

Water%

21~27
【Uses】This product is used as reducer in plating of printing, mirror, and thermos industries; as complexing agent in electroplating industry;as laxative agent in pharmacy in the making of crystal speakers and microphones in telecom industry; as desalting agent in chemical fertilizer industry; and also used in glass industry and other industries.
【Packing】25kg complex bag