Category :

Soaps and Cosmetics/Detergents

CAS NO : 593-85-1
EC NO : 209-813-7
Molecular Formula : CH5N3·2CH2O3
Main Specifications :
Synonyms : Guanidine carbonate salt;diguanidinium carbonate;carbonic acid-guanidine (1:2);carbonic acid-guanidine (1:1);carbonic acid-guanidine (2:1);Bisguanidinium carbonate;Guanioine Carbonate;
Package: Plastic knitting sack lined with double layers of plastic film, net 25kgs per sack. It should be stored in a cool, dry and ventilated place.
Molecular Structure: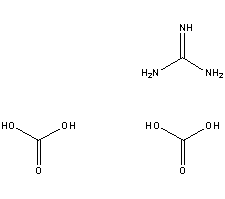 Product description: Property: White crystalline powder. It can decompose at 190℃, and dissolve in water, slightly in ethanol. It is a strong organic alkaline. Quality Specification : Item Specification Purity , % ≥ 99.0 Water , % ≤ 0.2 Ash Content ,% ≤ 0.4 PH Value (4%) 11. 4±0.4 (20%) Solution Transarent This product can be used as PH regulator for the amino-resin, antioxidant and stabilizer for resin. It can also be used in guanidine soaps, cosmetics, organic synthesis and others.