Product description:
CAS NO.:95-33-0
Chemical Name: N-Cyclohexy1-2-benzothiazole sulfenamide
Empirical Formula:C13H16N2S2
Molecular Weight:264.42
Chemical Structure: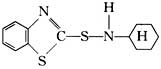 Physical Form: Grayish-white granule
Technical Parameters: Weight Loss 0.3% by weight max.
Ash Content 0.3% by weight max.
Initial M.P.: ≥98oC

Application: A medium fast primary accelerator suitable for NR,IR,SBR,NBR,HR AND EPDM. An outstanding delayed action accelerator.Be most effective and safe when used at ordinary processing temperatures,causing no scorches.Mainly used in manufacture of tires,rubber shoes ,rubber goods.

Packaging and Storage: Packed in paper/plastic laminated bag, of 20/25 kg net .The products should be stored and transported on pallets in dry and covered places and vehicles. Storage life in undamaged original packaging is 2 year under the observation of storage conditions.