Category :

Catalyst and Auxiliary/Water Treatment Chemicals

CAS NO : 2893-78-9
EC NO : 220-767-7
Molecular Formula : C3Cl2N3NaO3
Main Specifications : Powder,Granula,Tablet
Synonyms : 1-Sodium-3,5-dichloro-s-triazine-2,4,6-trione;Dichloro-s-triazine-2,4,6-(1H,3H,5H)-trione sodium salt;Sodium dichloroisocyanurate;Dichloroisocyanuric acid sodium salt;1,3-Dichloro-6-hydroxy-1,3,5-triazine-2,4-dione sodium salt;SDIC;sodium 3,5-dichloro-2,4,6-trioxo-1,3,5-triazinan-1-ide;Troclosene sodium;
Package: Fiber Drum,Plastic Drum,PP Big Bags,Carton
Uses : it can sterilize drinking water,swimming pool,silkworm,livestock,poultry and fish,
Molecular Structure: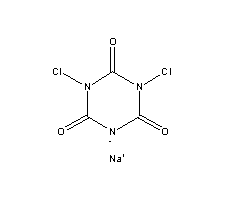 Product description: Name of products: Sodium Dichloroisocyanurate ( SDIC) CAS:2893-78-9 Effective Chlorine: 56%MIN and 60%MIN Water content:3.0%MAX PH (1% solution): 5.5-7.0 Powder Granular: 8-30mesh, 20-60mesh. Flakes:1g/flake,3g/flake, 5g/flake,20g/flake (or decided by customer); Packing: 25kg, 50kg plastic drum, plastic knitting bag 1000kg, 50kg fiber drum,20KG Carton (or decided by customer) Sodium Dichloroisocyanurate Powder Sodium Dichloroisocyanurate Granular Sodium Dichloroisocyanurate Tablets sodium dichloroisocyanurate acid sodium dichloroisocyanuric acid sodium dichloroisocyanurate anhydrous Sodium Dichloroisocyanurate can steriliaze drinking water, swimming pool, tableware and air, and clean the industrial circulating waste water, or act as disinfectant in raising silkworm, livestock, poultry and fish. Other applications of SDIC are found in wool shrinkage, textile bleaching,the effect is very good.