Category :

Polymers

CAS NO : 3173-72-6
EC NO : 221-641-4
Molecular Formula : C12H6N2O2
Main Specifications :
Synonyms : 1,5-Naphthalenediisocyanate;1,5-Naphthylene diisocyanate;Naphthalene, 1,5-diisocyanato-;NDI;1,5-diisocyanatonaphthalene;
Molecular Structure: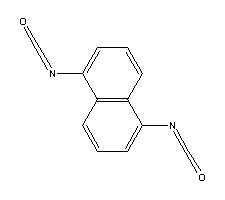 Product description: Name: 1,5-naphthylene diisocyanate (NDI) Molecular Formula: C12H6N2O2 Structure: Molecular Weight: 210.19 CAS No: 3173-72-6 property: white to light yellow flaky crystalline solid , melting point: 126-130 °C ; Boiling Point: 167 °C( 5 × 1.33kPa ), Specific Gravity/Density: 1.42-1.45g/cm3 Specification :Content ≥ 99% Use: NDI is widedly used as raw material for making PU elastomer with excellent wear resistance and other great properties like bump stop in automobile, special casters ect. Packing: 20KG cardboard barrel , aluminium foil liner inside Storage: Keep away from heat, sparks, and flame. Keep away from sources of ignition. Store in a cool, dry, well-ventilated area away from incompatible substances. Store protected from moisture.