Category :

Food and Feed additives

CAS NO : 56038-13-2
EC NO : 259-952-2
Molecular Formula : C12H19Cl3O8
Main Specifications :
Synonyms : 1,6-Dichloro-1,6-dideoxy-beta-D-fructofuranosyl-4-chloro-4-deoxy-alpha-D-galactopyranoside;4,1',6',-trichloro-4,1',6'trideoxy-Pentagalactosucrose;1,6-dichloro-1,6-dideoxyhex-2-ulofuranosyl 4-chloro-4-deoxyhexopyranoside;
Molecular Structure: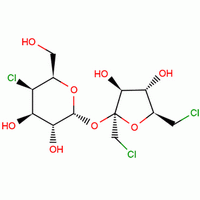 Product description: 1.Sucralose is 600-650 times sweeter than sugar and 3 times sweeter than Aspartame.
2.Fine taste.Sucralose tastes almost the same as Sugar.
3.High safety.Sucralose has been proved totally safe to human body .
4.High stability.Sucralose is resistant to acid and high temperature,and suitable for all kinds of foods including health-care foods and medicine.
5.High solubility.Sucralose is readily soluble in water.
6.Health-care function. The caloric and energy value of Sucralose is zero. It will not be absorbed by human body and cause decayed teeth . It is suitable to all populations including patients suffering diabetes , obesity , cardio-vascular diseases.
7.Application:
Sucralose is widely used in beverages , such as cola , fruit and vegetable juice ,seasoning milk.
Seasoning such as sauce , mustard sauce , fruit sauce , salad sauce , soy sauce , vinegar, oyster sauce. Baking foods such as bread , cakes ,sandwich , pizza, fruit pie. Breakfast cereals, soy-milk powder , sweet milk powder.
Chewing gum , syrup,confection,preserved fruits , dehydrate fruits. also used in pharmaceutical and health care products.