Category :

Catalyst and Auxiliary/Other Auxiliary Agent

CAS NO : 31570-04-4
EC NO : 250-709-6
Molecular Formula : C14H21O3P
Main Specifications :
Synonyms : Tris(2,4-di-tert-butylphenyl) Phosphite;Antioxidant 168;IRGAFOS 168;Antioxidant JX-168;
Molecular Structure: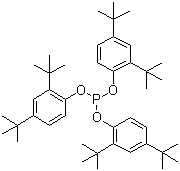 Product description: Product name: Tris(2,4-di-t-butylphenyl)phosphite Alias: Tris(2,4-di-t-butylphenyl)phosphite; Antioxidant JX-168 CAS No.: 31570-04-4 EC No.: 250-709-6 Molecular weight: 268.2896 Structural Formula: Product introduction: Antioxidant 168, Chemical name: Tris-(2,4-di-tert-butyl-pheny)-phosphite, Trade name: Irgafos 168; Ciba Specialty Chen. The product was white crystalline powder at Room temperature, soluble in benzene, cyclohexane and other organic solvents, insoluble in water, ethanol and other solvents, slightly soluble in esters. This product has low toxicity, good thermal stability, good resistance toi water extraction, can effectively break down the hydrogen peroxide during thermal processing of polymer. Uses: This product is generally not used alone, usually works with Antioxidant XD-1010, XD-1076 and can improve the thermal stability during the thermal processing of polymer; Working wit phenolic Antioxidant, it is widely used in PE, PP, PS, polyamide, polycarbonate, ABS and other polymeric materials. Storage and precautions: This product is stable, without special storage requirements, but should pay attention to moisture, heat. Packaging:composite kraft paper bag lined with plastic bag, net weight 25Kg. Also be packaged according to customer's needs.