Category :

Catalyst and Auxiliary/Water Treatment Chemicals

CAS NO : 7783-20-2
EC NO : 231-984-1
Molecular Formula : (NH4)2·SO4
Main Specifications :
Synonyms : Ammonium sulfate (2:1);ammonium sulfate, solution;diammonium sulfate;sulfate, ammonium;sulfuric acid, diammonium salt;ammonium sulphate;Ammonia sulfate;
Molecular Structure: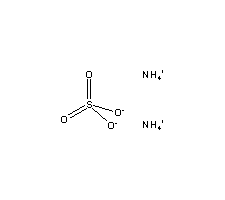 Product description: Product name: Ammonium sulfate Molecular formula :(NH4)2 SO4 Molecular weight:132 Nitrogen content:≥21.0% Water content:≤0.3% Features: industrial product is white or light color crystal, relative density D-20,1.769, decomposed at 235℃ easily soluble in water, insoluble in ethanol or acetone,has hygroscopicity; can react with alkalis and release ammonia gas. Use:Can be directly used as fertilizer; also used to produce composite fertilizer, potassium sulfate,ammonium chloride etc.; also used in food, textiles, leather, pharmacy etc. Packing:In woven bag with plastic liner, net weight 25kg or 40kg. Storage and transport:In airy and dry place, avoid moisture, water, rain or fire; transported with common vehicles.