Category :

Catalyst and Auxiliary/Catalyst

CAS NO : 113-00-8
EC NO : 204-021-8
Molecular Formula : CH5N3
Main Specifications : Colorless crystal
Synonyms : Guanidine;4-03-00-00148 (Beilstein Handbook Reference);Aminoformamidine;Aminomethanamidine;BRN 0506044;Carbamamidine;Carbamidine;HSDB 7603;Imidourea;Iminourea;UNII-JU58VJ6Y3B;
Molecular Structure: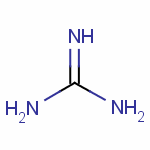 Product description: Guanidine Alias:carbamamidine,carbamidine,imidourea,iminourea Molecular formula: Molecular formula: CH5N3 Molecular weight: 59.07 CAS NO.: 113-00-8 EC NO: 204-021-8 ITEMS Technical Index Appearance Colorless crystal Melting point 50℃ Water soluble Easily soluble in water and alcohol Boiling point(℃) 132.9°Cat760mmHg Index of Refraction 1.595 Density 1.55g/cm3 Product Application: used as organic synthetic intermediate. Mainly used in manufacturing sulfonamides and dyestuff. As the free guanidine is difficult to be seperated, the products are mainly its salts products, such as guanidine hcl, guanidine nitrate, guanidine carbonate, Guanidine sulfate etc.