Category :

Inorganic chemicals/Inorganic salts

CAS NO : 10124-56-8
EC NO : 233-343-1
Molecular Formula : (NaPO3)6
Main Specifications : Molecular formula: (NaPO3)6
Synonyms : Metaphosphoric acid, hexasodium salt;Hexasodium metaphosphate;Glassy sodium;Graham's Salt, Sodium Polymetaphosphate;SHMP;Sodium Hexameta phosphate;sodium henamephosphate;hexasodium cyclohexaphosphoxane-2,4,6,8,10,12-hexolate 2,4,6,8,10,12-hexaoxide;Sodium Hexametapho;Sodium Hexamethaphosphate;
Package: Plastic knit bag, net weight 25kg. Store at ventilated dry places.
Uses : As for industrial grade, it is mainly used as soft water agent in the solution for industrial and dyeing and boiler; Combine of papermaking; slow corrode, floating agent, Dispersant medium High temperature lowering, Clash and soil analytical chemistry reg
Molecular Structure: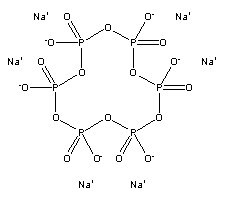 Product description: White, density is 2.484(20), soluble in water easily, but not in organic a fine water agent.