Category :

Inorganic chemicals

CAS NO : 1762-95-4
EC NO : 217-175-6
Molecular Formula : NH4SCN
Main Specifications :
Synonyms : Thiocyanic acid ammonium salt;thiocyanic acid, ammonium salt;cyanosulfuric acid (HSO3), ammonium salt (1:1);
Package: 25kg each net, Kraft-plastic laminated bag with PE liner. net 25kg woven bags.
Usage : Genaral: Mainly in pharmaceuticals, pesticide, textile,electroplating, photography,water tracer in oil fields, thinning agent, as intermediate for metal thiocyanates etc.
Molecular Structure: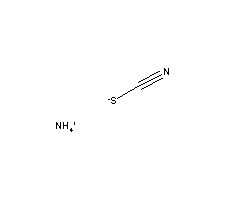 Product description:
NH4SCN,a colorless crystalline or column crystal that is soluble in water, methanol, ethanol, pyridine, acetone & ammonia and insoluble in ethyl acetate, methyl chloride and chloroform; at 140℃ bring thiourea. melts at 149.6℃. .thermal decomposition at 170℃may produce highly toxic fumes of hydrogen cyanide, hydrogen sulfide and toxic oxides of nitrogen, sulfur, and carbon.