Uses : USES:It's phosphorathicate insecticide with contact, stomach and fumigation poisoning effect. It has a short residual time in leaves but a longer residual time in soil.So,it is well effective to control underground pests.
Product description:
COMMON NAME:Chlorpyrifos (97TC, 48EC)
CHEMICAL NAME:O.O-dimethyl-O-(3.5.6-trichloro-2-pyridyl) phosphorothicate
STRUCTURAL FORMULA: ?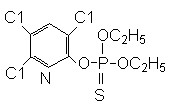 PHYSICAL AND CHEMICAL PROPERTIES:
Technical product is white granular crystal with mercaptan-like odour,stable at normal temperature,m.p.41.5~43.5,It's easily soluble in many organic solvents such as acetone,benzene,dimethyl benzene,dichloroethane,trichloromethane and so on.
TOXICITY:
Acute oral LD50 of technical to mouse is 163 mg/kg,acute dermal LD50 is more than 2000mg/kg.It is lightly irritative to animal eyes. Touching for a long time will lead to be burned.It has no teratoge nicity,carcinogenicity and mutagenicity effect.It's high toxic to fish and aquatic animal,poisonous to bees.
FORMULATION AND SPECIFICATION:
| | | |
| --- | --- | --- |
| ? | Technical | EC |
| Carbofuran content,%(m/m) | 94.0 min | 40.,20 |
| Moisture(%,m/m) | 0.1 max | 0.3 max |
| Acidity(as H2SO4),% (m/m) | X0.1 max | 0.3 max |
PRECAUTION:
1.Avoid using it during the blossom period in order to protect bees.
2.Don't mix it with alkaline pesticides.It can't be used on tobacco.
3.Ceasing period of using on crops before harvest:cotton,21 days;rice,7 days; sugarcane, 7 days;soybean,14 days;peanut,21 days; corn,10 days.
THE SCALE,METHOD AND RECOMMENDATORY RATE OF APPLICTION:
Crop
insects
recommendatory rate
method of application
Rice
leaf rollers
360-600 g/ha
water 750kg and spraying
thrips
480-720 g/ha
water 750kg and spraying
wheat
armyworms
240 g/ha
water 600kg and spraying
aphids
300-450 g/ha
water 600kg and spraying
cotton
aphids
300 g/ha
water 600kg and spraying
pinkworms
700-1020 g/ha
water 600kg and spraying
vegetable
small diamond,black moth
600-900 g/ha
water 1350kg and spraying
fruit
peach pod borer
200-400 ppm
spraying
orange leaf miner
200-500 ppm
spraying