Category :

Intermediates/Agrochemical intermediates

CAS NO : 4300-97-4
EC NO : 224-311-8
Molecular Formula : C5H8Cl2O
Main Specifications : Purity ≥ 98.5%
Synonyms : 3-chloropivaloyl chloride;Chloropivaloyl chloride;3-Chloro-2,2-Dimethyl Propionyl Chloride;3-Chloro-2,2-dimethylpropionyl chloride;3-Chloro-2,2-dimethylpropanoyl chloride;3-Chloro Pivaloyl Chloride;
Package: 250kg/drum
Uses : For synthesis of clomazone.
Molecular Structure: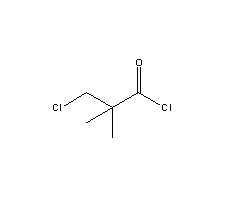 Product description: 1.Physics and Chemical Features colorless and transparent liquid with irritant odour, Density 1.18 at 20 temperature, Boling Point:85-86 temperature. 2.specification purity:≧98.5%;Dichloropivaloyl chloride:≦0.5%;Pivaloyl chloride:≦0.5%;pivalic anhydride:≦0.5%. 3.Application This product is mainly composed for synthesis of command (clomazone), which is a predominant weedkiller in soybean fields, in addition, CPC is also used for production of isoxazolone compounds.