Category :

Food and Feed additives

CAS NO : 7778-77-0
EC NO : 231-913-4
Molecular Formula : KH2PO4
Main Specifications :
Synonyms : Dipotassium dihydrogenphosphate;Phosphoric acid, monopotassium salt;potassium dihydrogenorthophosphate;Potassium dihydrogen phosphate;MONOPOTASSIUM PHOSPHATE;MKP;Mono Potassium Phosphate;Potassium phosphate, monobasic;Potassium dihydrogen phosphate anhydrous;
Package: 25Kg, 50Kg,1000kg in braided bag lined with plastic. Store it in ventilated, dry and clean place. Moisture proof.
Uses : It can be used as raising agent, flavouring agent and chelon of food baking in food industry.
Molecular Structure: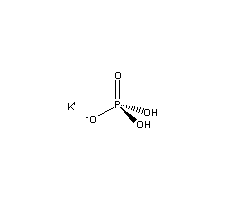 Product description:
Molecular formula:KH2PO4
Molecular weight:136.09
EINECS No.: 231-913-4
H.S CODE:28352400
Appearance: White or colorless crystal;
Density: 2.338;
Melting point: 252.6℃; Dissolved in water.