Category :

Food and Feed additives

CAS NO : 7722-88-5
EC NO : 231-767-1
Molecular Formula : Na4P2O7
Main Specifications :
Synonyms : Sodium pyrophosphate;Tetrasodium pyrophosphate;TSPP;Tetra Sodium Pyrophosphate;Tetrasodium Diphosohate;
Package: 25Kg, 50Kg,1000kg in braided bag lined with plastic. Store it in ventilated, dry and clean place. Moisture proof.
Uses : It can be used as quality improvement agent of can, fruit, milk product, etc.
Molecular Structure: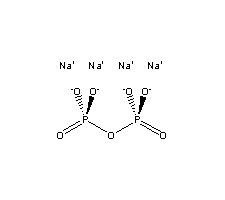 Product description:
Molecular formula:Na4P2O7
Molecular weight:265.9
EINECS No.: 231-767-1
H.S CODE:28353990
Appearance: White powder; Dissolved in water; Un-dissolved in ethanol; Density: 2.45; Melting point: 890℃;