Category :

Intermediates/Pharmaceutical intermediates

CAS NO : 97792-45-5
EC NO :
Molecular Formula : C32H45BrN2O8
Main Specifications :
Synonyms : (1a,14a,16b)-20-Ethyl-1,14,16-trimethoxyaconitane-4,8,9-triol 4-(2-(acetylamino)benzoate) hydrobromide;Allapinine;Lappaconite Hydrobromide;Lappaconitin hydrobromide;
Package: 25KG/Drum
Uses : Anti-addiction analgesic,local anesthesia, refrigeration, anti-inflammation and detumescence
Molecular Structure: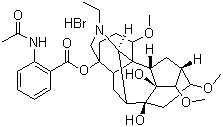 Product description: [Molecular weight]: 683.64

[Botanical source]: Aconitum sinomontanum Nakai

[Test method]:HPLC

[Appearance]: White crystalline powder

[Function and Usage]:This is the anti-addiction analgesic, which has strong analgesic effort. This also can be used to local anesthesia, refrigeration, anti-inflammation and detumescence .

[Adaption disease]: gastroenteritic ulcer, gastritis, hepatitis, cholecystitis, rheumatism, sciatica, toothache, etc.