Category :

Organic chemicals and Derivatives

CAS NO : 1072-35-1
EC NO : 214-005-2
Molecular Formula : C36H70O4Pb
Main Specifications : 1. toxic and flammable 2 . insoluble to alcohol 3. with hygroscopicity in air 4. be taken as hot stabilizer of PVC and lubricant
Synonyms : lead distearate, pure;Leadstearateminwhitepowder;Lead stearate;lead octadecanoate;lead(2+) dioctadecanoate;
Package: In plastic woven bag lined wth film, net weight 20kg/bag; or according to customers' requests.
Uses : As the high efficiency stabilizer and lubricant in low temperature processing, It has good light stability and primary stainability control, So that it could be used widely in the rigid PVC products extrusion and injection .
Molecular Structure: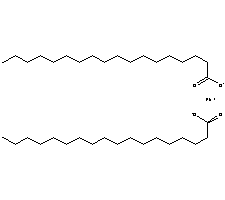 Product description:
Quality Standard :
Item

Index

Premium grades

First Grade

Salable product

Pb Content %

Free Acid (octadecoic acid) 

%

10.0-12.0

10.0-12.0

9.0-12.0

Heat Loss  %<

0.30

1.0

1.7

Melting Point(οC)

103-110

100-110

98-110

Residue on 0.075mm sieve %>

99.0

98.0

95.0